National retail chain Tractor Supply Co. plans to open a store here in the former Kmart building.
The company, which calls itself the largest lifestyle retailer in the U.S. and was founded in 1938, sells products for home improvement, agriculture, lawn and garden, livestock, equine and pet care.
The new store is set to hold its grand opening celebration from Sept. 21 to Sept. 24, according to a release from the company. A sign on the building shows the store is hiring for positions.
"Homeowners, livestock and pet owners, gardeners, hobby farmers, ranchers, tradesmen
and others rely on Tractor Supply for a wide assortment of products," the company said in a release. "We're excited to call Kalispell home and serve the community with the essentials you need to live life on your own terms."
Tractor Supply expects to provide 15 jobs, with at least half of those as full-time positions, the company says.
The store, expected to include a total of 30,000 square feet of retail space inside and outside, is set to carry a range of products including mowers, horse supplies, power tools, fencing, workwear and boots and grills, among other items.
Evergreen Chamber of Commerce Executive Director Connie McCubbins said the chamber is excited to welcome Tractor Supply.
"We are looking forward to the creation of new jobs, as well as the new shopping opportunity," she said. "It is nice to see the corner of Highway 2 and Highway 35 being spruced up. This intersection is one of the busiest intersections in the state."
A garden center is planned as part of the store to include an assortment of annuals and perennials, shrubs and decorative plants, fruit trees, vegetables and herbs.
The company said in a statement that Kalispell is a prime location for Tractor Supply's next location.
"Along with being one of Montana's fastest growing communities, the city offers a generous amount of greenspace, a rich history and an agriculture legacy that we hope our products and tools can help nurture," the statement said.
The new store will also come equipped with a pet wash, the company notes, where pet owners can use elevated wash bays, grooming tables, specialty shampoo and professional dryers for washing their pets.
The company says it values community engagement and plans to support youth education like area 4-H clubs and FFA chapters, along with local animal shelters and veterans.
The company operates more than 2,000 Tractor Supply stores in 49 states. Tractor Supply already has several locations in Montana — Billings, Lolo, Lewistown, Laurel, Sidney and Glendive.
Big-box store Kmart closed its doors at U.S. 2 and Montana 35 in December 2019 and the building has sat empty since. Last year Transformco Properties, a large real estate company with listings across the U.S., began showing the property as available for lease.
The building was constructed in 1974 and sits on more than 8 acres.
The Kalispell Tractor Supply store will be open from 8 a.m. to 9 p.m. Monday through Saturday and 9 a.m. to 7 p.m. Sunday.
For more information, visit tractorsupply.com.
Features Editor Heidi Desch may be reached at 758-4421 or [email protected].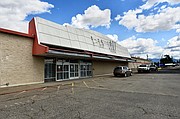 Related Posts