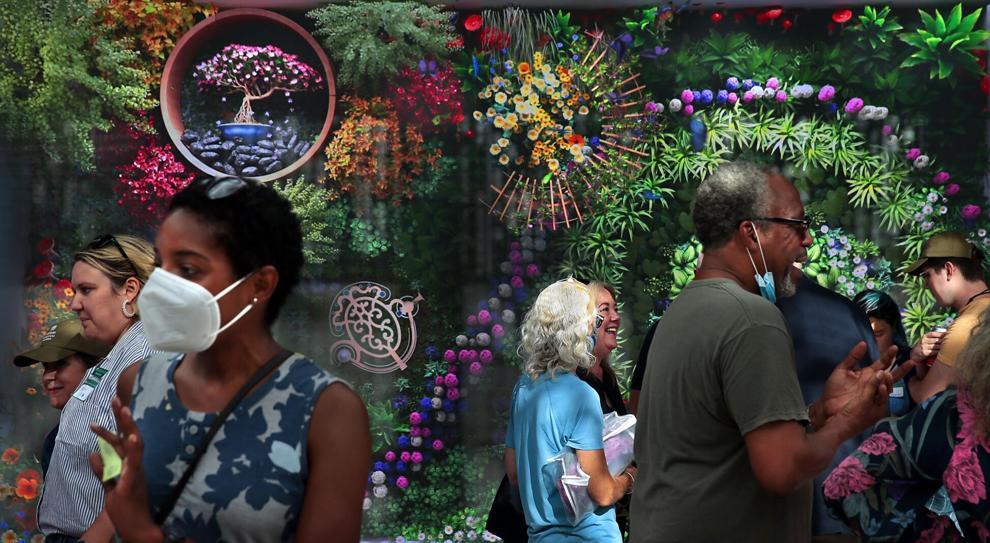 Missouri Botanical Garden president Peter Wyse Jackson says he heard the word over and over from donors and employees at preview parties this week for the new, $100 million Jack C. Taylor Visitor Center.
"People weren't just saying it," said Wyse Jackson. "It was the whole sense of place. Their garden has been enhanced and strengthened, because it fits so well into the garden's landscape."
The garden, at 4344 Shaw Boulevard, will host the center's grand opening ceremony for the public at 10 a.m. Saturday with free admission Saturday and Sunday, courtesy of the Pohlmann Legacy. In lieu of a traditional ribbon cutting with giant scissors, Wyse Jackson will cut a fresh greenery garland with gardening shears.
There will be live music, storytelling and other special events, as well as refreshments from local vendors. The revamped Sassafras Restaurant and Cafe will be open.
The center was privately funded by more than 12,000 individuals, foundations and donors, with a lead gift from the Taylor family.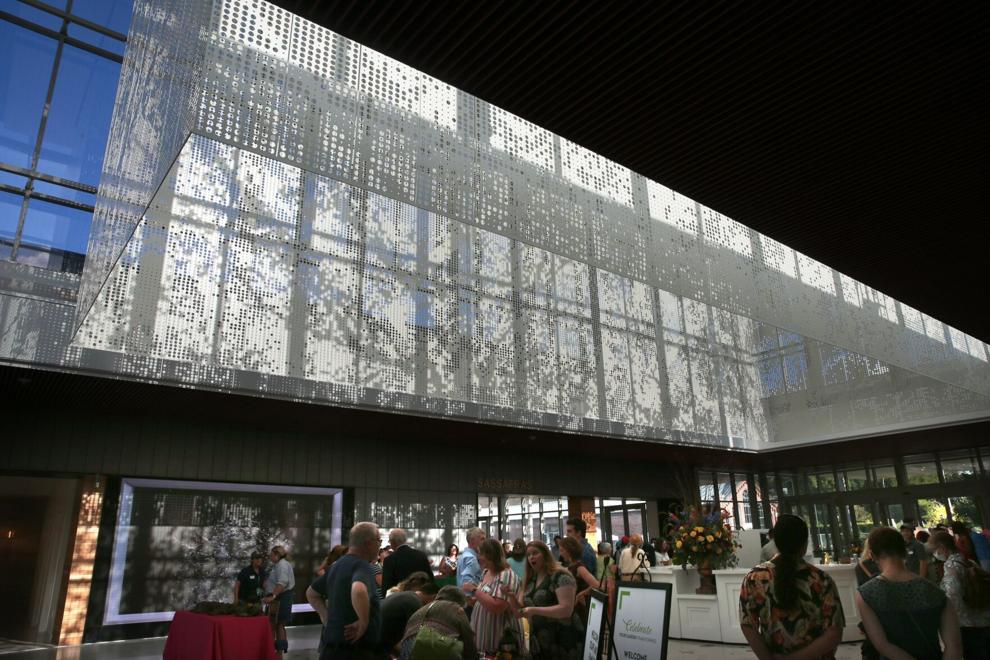 Visitors can see for themselves if it has that "wow" factor. They'll look up and notice the more than 50-foot-tall glass "lantern" in the center above the main hall. It's fashioned with punctured aluminum screens that cast shadows mimicking a ginkgo tree canopy.
They'll look down and see the terrazzo floor, which is inlaid with smoothed river stone as well as hundreds of brass outlines of leaves from Missouri native trees: bitternut hickory, pawpaw, black walnut, hackberry.
The buzzphrase here is "biophilic design," an approach that seeks to connect buildings and their occupants to nature.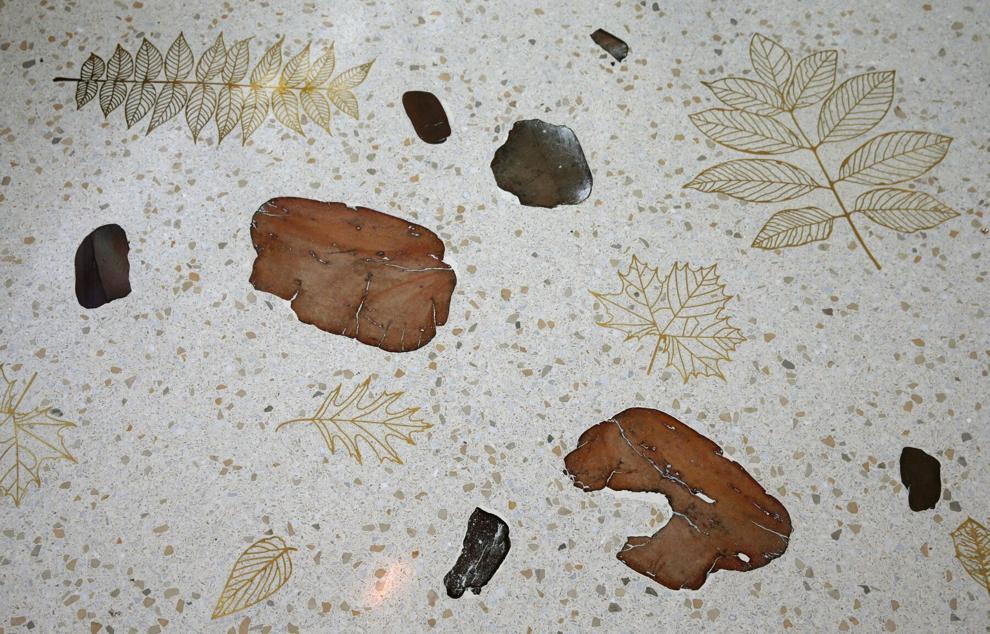 Connecting people to nature was a real issue in the old visitor center, which got the wrecking ball in February 2020. The Ridgway Center, built in 1982, was meant to accommodate 250,000 visitors a year. These days, the garden gets more than a million. Getting people through the doors and up the stairs or elevator to the garden was a confusing, often bottlenecked venture, with some wanderers asking: "Where's the garden?"
To enter the new center, visitors first climb outdoor steps or ramp, passing by beds of trees, plants and flowers to be planted in spring. So the garden experience starts from the parking lot, planners say. When people enter the building and look through the lobby and through the rear glass doors, it's obvious the larger garden awaits.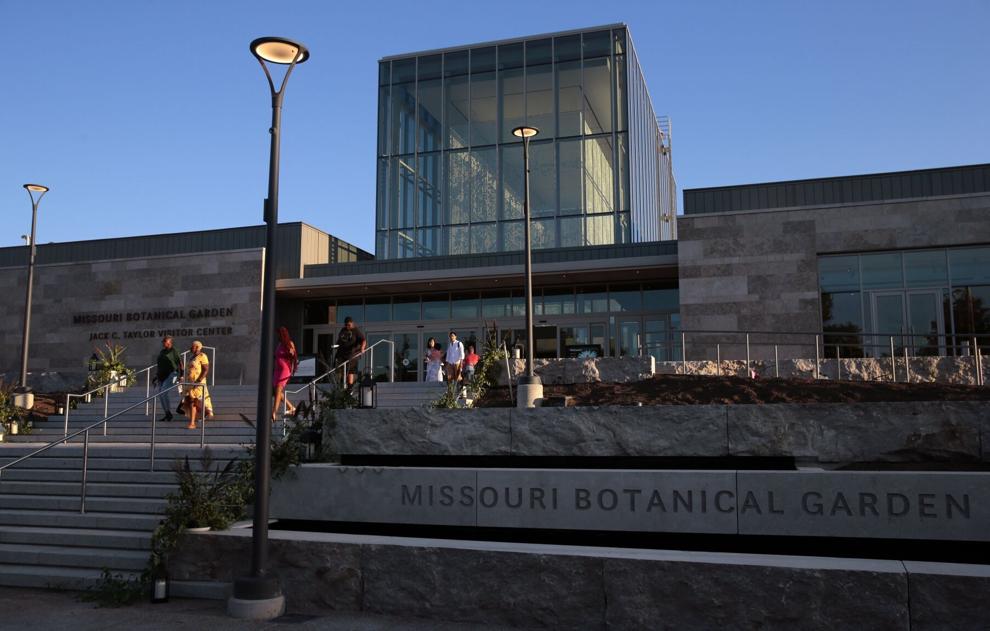 The visitor center doors align with a giant ginkgo tree in the garden that dates to the era of founder Henry Shaw. The doors of the adjacent event space, which has served as a temporary ticketing center and gift shop, align with the doors of the brick Linnean House. The axis expands all the way to Tower Grove House at the back of the garden.
Project manager Joel Fidler with Baltimore-based architect Ayers Saint Gross worked with St. Louis-based Tao and Lee Associates on the design. Michael Vergason is the landscape architect, and Alberici is managing construction.
"Obviously, the garden is so beloved in St. Louis," said Fidler. "And even broader than that, to have people come through and say things, like, 'Oh, I didn't realize the Climatron was so close,' or, 'the Linnean House looks so much different,' you really feel like you're having a significant impact on how people see the garden."
Peter Tao grew up in St. Louis. His parents, William and Anne Tao, were Chinese immigrants instrumental in starting the Chinese cultural festival now held at the gardens. He was happy to incorporate the garden's story into the design.
One main focus was the revamped Sassafras Restaurant and Cafe, which features white acrylic ceiling light fixtures that look like oversized roses. A carved log bench and communal tabletop was created from a Shumard oak tree that was dying and had to be felled for the construction. Clear panels tell food stories about seeds, grapes and other edible crops.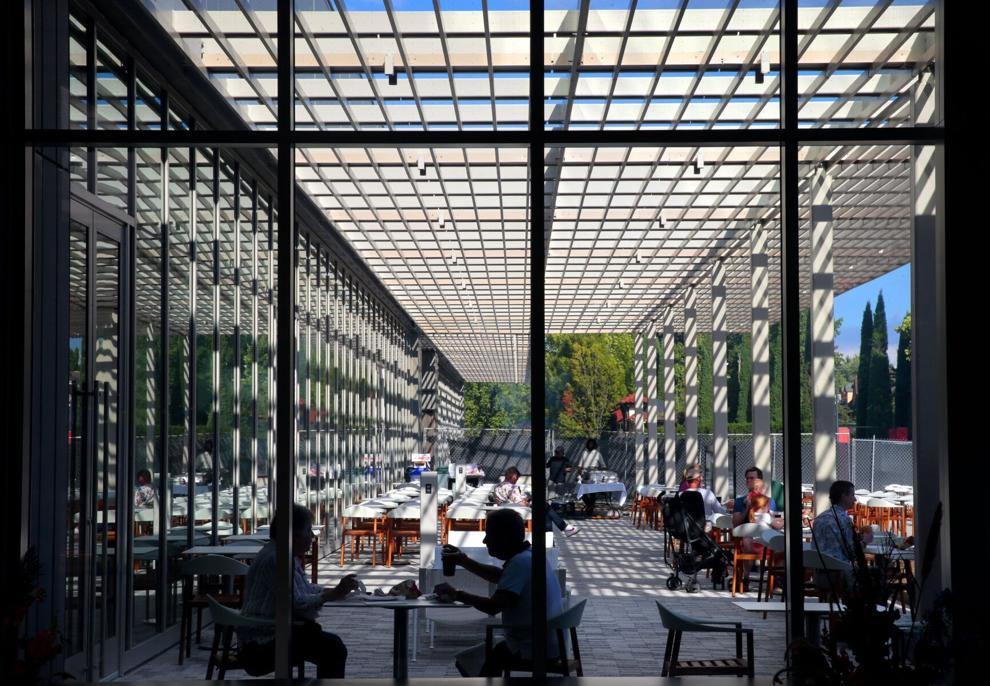 "It's neat," Tao said. "Each one has a story, and a lot of it is either about what you might find locally or its about something the garden researches." One panel, on seed diversity, his firm sponsored in honor of his parents.
A revamped and bigger Garden Gate Gift Shop, which includes space outside for selling plants and flowers, tan leather couches for discerning readers and waiting spouses, and a "Koi Cafe" with dispensers full of fish food for eager kids to tote to even more eager giant koi in the Japanese Garden lake. The garden recently opened an online shop for at-home browsing.
A conservatory that will host a permanent display of Mediterranean plants and will be the new home for floral shows, such as the holiday train show and orchid show this winter. This is the first conservatory built at the garden since 1915.
Meeting and classroom space on the main level with offices on a basement level for education, event and interpretation staff, and a space for volunteers. Their offices include indoor and outdoor bike racks and a shower and locker area.
An ever-changing video wall in the lobby, as well as ticketing and service counters for visitors. Round glass light fixtures above the counters mimic stars or lightning bugs.
More outdoor seating and a revamped menu at the Sassafras Restaurant and Cafe. It includes express salads and sandwiches, sit-down items like Belgian waffles and egg-and-chorizo wraps, an Italian option called the the Hill Hoagie, a Climatron salad with mango and macadamia nuts, gooey butter cake and wine by the bottle.
A theater that plays an introductory video narrated by another homegrown specimen, actor Jon Hamm. "I think we tell a pretty good story about ourselves, but you had to sort of look for it," said Liz Fathman, the garden's director of marketing and communications. "I think what we really wanted was a sendoff right away. We orient you to the garden, help you understand a bit about its mission, so that when you go out, when you're reading some of these signs, there's a connection that you finally make."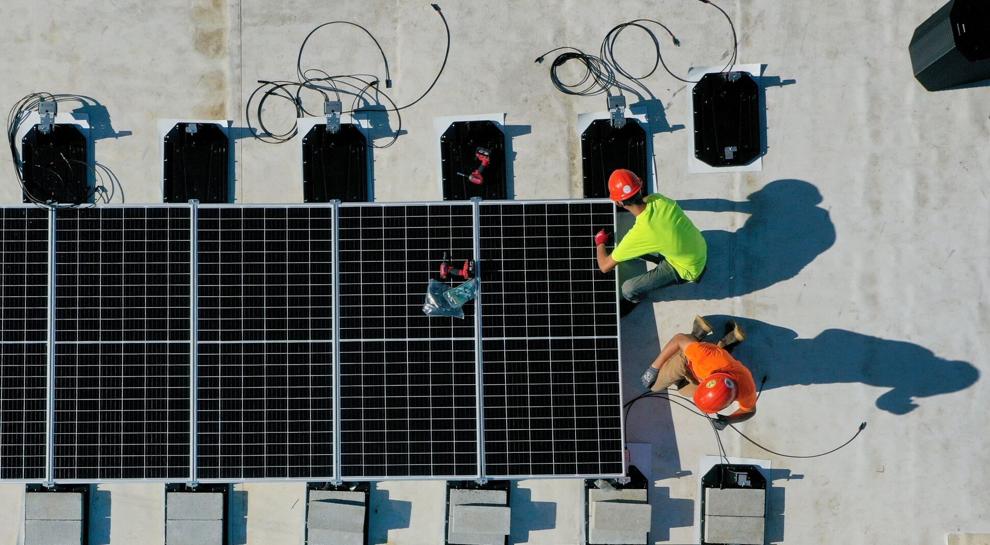 The garden is seeking LEED certification for its efforts, which include two 25,000-gallon cisterns to collect rainwater to quench its flora and solar panels still being installed on the roof. The crews experienced some supply chain issues because of the pandemic but were able to navigate them, said Deniz Piskin, the garden's vice president of facilities and construction.
In September, work begins on transforming the temporary visitor center to the east into the Bayer Event Center, which can accommodate weddings that can seat 350 people. That space is expected to open in the spring.
The garden's horticulture team will start planting the new gardens outside the building to the north and south. Workers will add more than 30,500 plants, including rare and endangered species that tell more about the garden's research worldwide.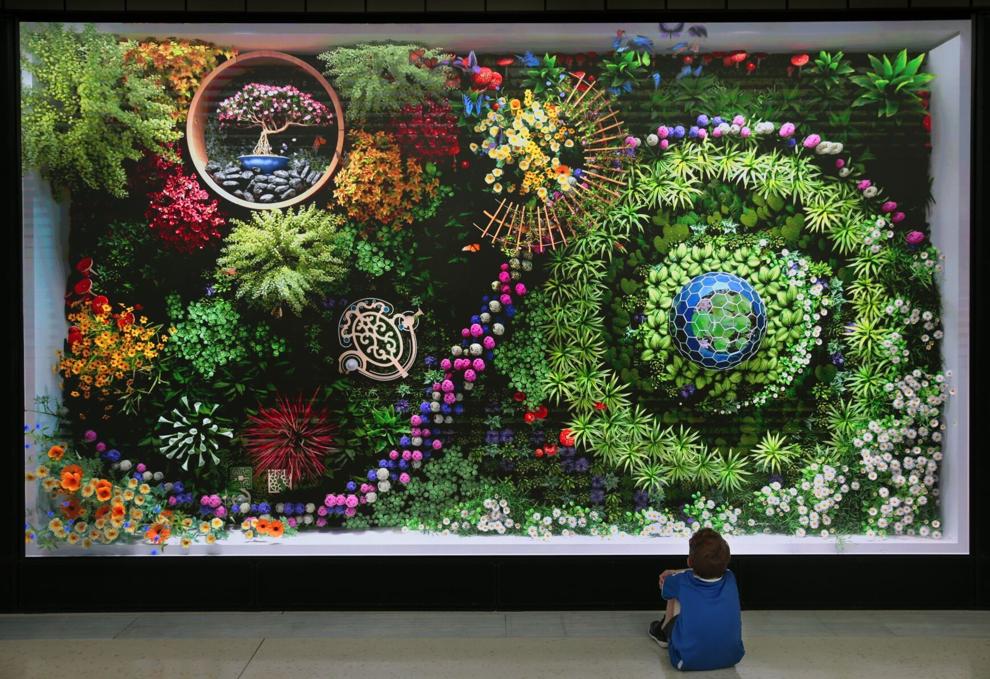 Wyse Jackson knows the center will be an example for gardens around the world and hopes it becomes the destination for major international conferences and meetings.
"We're so pleased," he said, adding that the results of years of planning exceeded his expectations. "It really enhances and opens a new era for the Missouri Botanical Garden."
Related Posts