I wish I could report a bumper crop of produce was harvested from my garden this year, especially being part of the NUSHI (Nebraska Urban Soil Health Initiative) study through UNL. The reality is that gardening was a struggle.
But next year will be better. I have a long list of notes of what to do differently, and what not to do.
Growing anything proved difficult this summer with the dry heat. It didn't matter if you were trying to raise a cash crop, get enough forage to feed your cattle through winter or even keep your lawn alive. Consecutive dry years have placed a lot of stress on the landscape.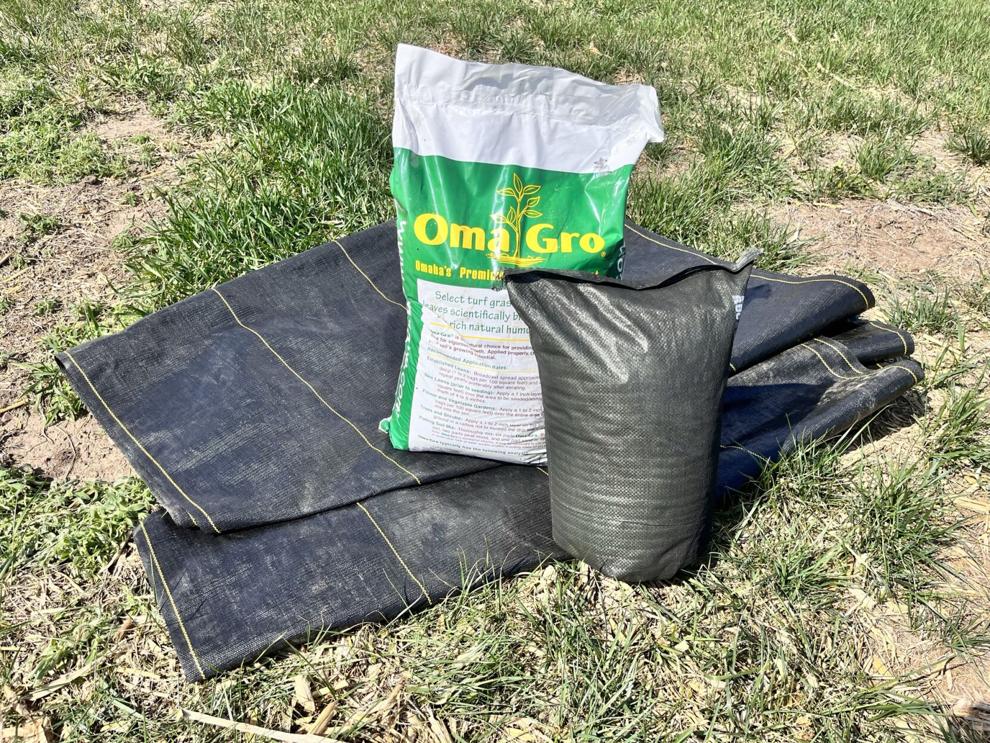 You don't realize how hard change is until you try to change. That was just one of my realiz…
Like the plagues of Egypt, my garden suffered wave after wave of pestilence and infestation. Early in the spring, the peas became blistered with pea enation mosaic virus. Next, aphids attacked. When researching the problem, everything I read said "do not plant peas next to alfalfa." Turns out the same legume-loving insects attack both peas and alfalfa. Note for next year.
Grasshoppers thrived in this dry climate and wiped out anything green, whether in the garden, the fields or the road ditch. But this was the first year that no toads were living under the canopy of leaves in the garden – a bad sign when you are trying to keep the plants as moist as possible in extreme heat.
One advantage to the drought is that the dry beans dried down quickly. I started growing dry beans about three years ago after receiving a free packet of pinto beans. They have become my favorite part of gardening. You don't have to worry about picking them before they over-mature, and the bugs didn't seem to bother these plants.
The green beans looked promising at first, full of foliage and vining rapidly. Too rapidly. I purposely ordered a bush-type bean from a catalog because pole beans do not fare well in drought conditions. The ones growing in my garden were obviously pole beans. A call to the company revealed that the hybrid Blue Lake 274 variety reverts to its original pole bean heritage in a drought. I am still skeptical of this theory, but my notes for next year do not include ordering from that catalog.
At the onset of spring, the tomato plants I began from seed indoors in March were growing well. I could not bear to terminate any of my little seedlings and, even after sharing plant starts, had 32 growing in my garden. I had big dreams for those little sprouts.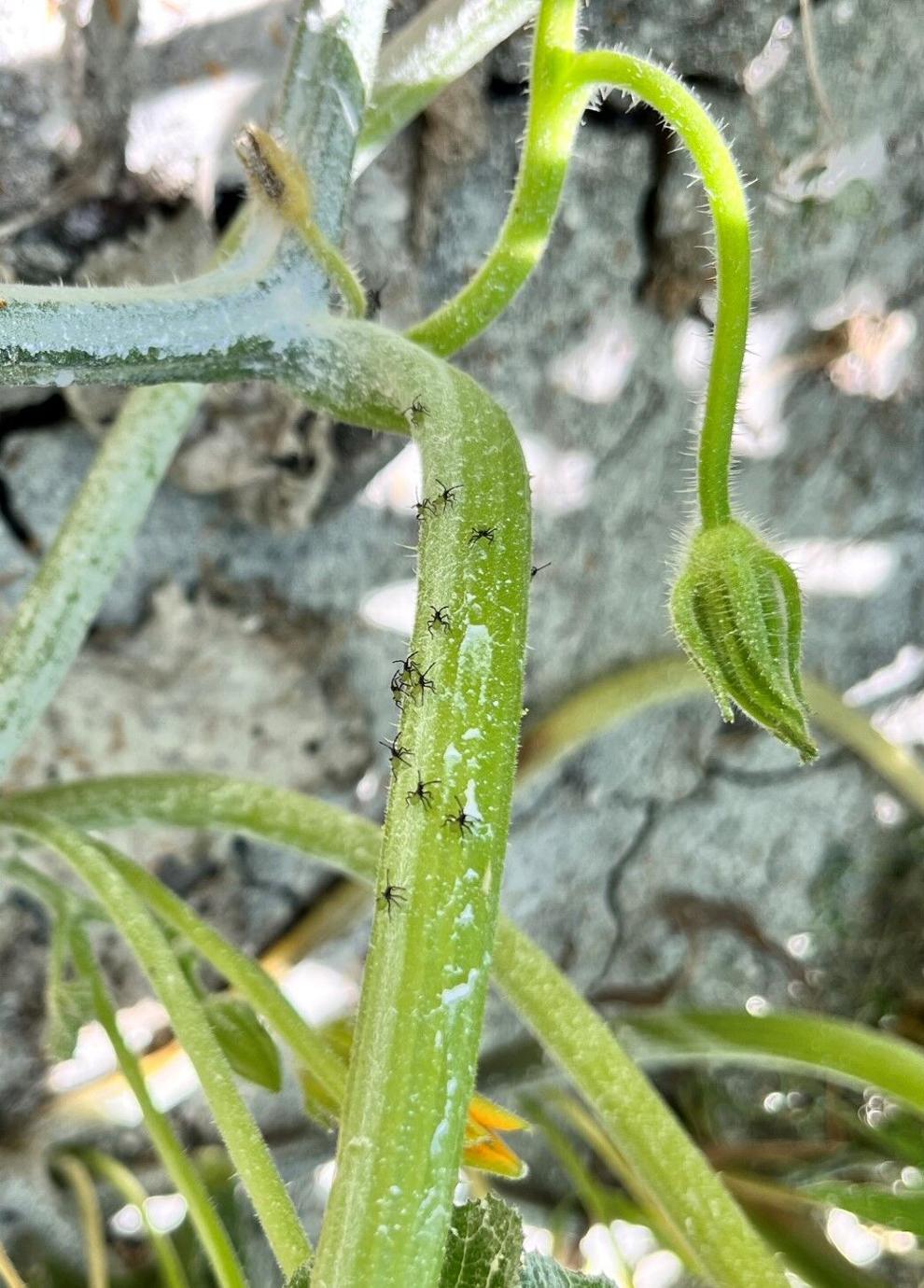 Then the tomatoes caught a whiff of spray drift mid-June. Survivors were struck by early blight shortly after. Fortunately, generous friends supplied boxes of tomatoes for canning. My notes for next year? Avoid fungus from the soil, but I already use soaker hoses for this very purpose. Maybe I'll follow my grandpa's watering method of burying a can next to the tomato plant to fill with water.
The pumpkin patch was the star of the garden, smothering everything in its path. This was part of the 2X no-till and cover crop NUSHI plot. My notation about pumpkins ends in a big question mark: how do you prevent squash bugs?
I tried removing the eggs, laying down boards to attract the adults, spraying with dish soap, sprinkling diatomaceous earth and squashing them with my fingers. They still ransacked any vining plant in the vicinity. The NUSHI Dunja zucchini made it through July before dying off, so I was glad to be able to submit a harvest chart to UNL. One plant produced 23 zucchini.
One experiment I will likely not be repeating is the "three sisters" method of companion planting. Maybe others have had more luck integrating corn, pumpkins and beans in the same space, but I feel production was hindered. It probably didn't help that the pumpkins were so aggressive in taking over half the backyard. Make note to plant pumpkins solo, and away from squash bugs.
I was happily surprised by the 4X NUSHI plot performance, which involved no-till, biochar, compost and cover crop. Instead of normal rows, I planted this area with one or two plants such as okra, pepper and potato to experiment. Of special note was the cucumber plant that continually produced cucumbers into late September. The other cucumber plants outside of the NUSHI plot treatment area paled in comparison.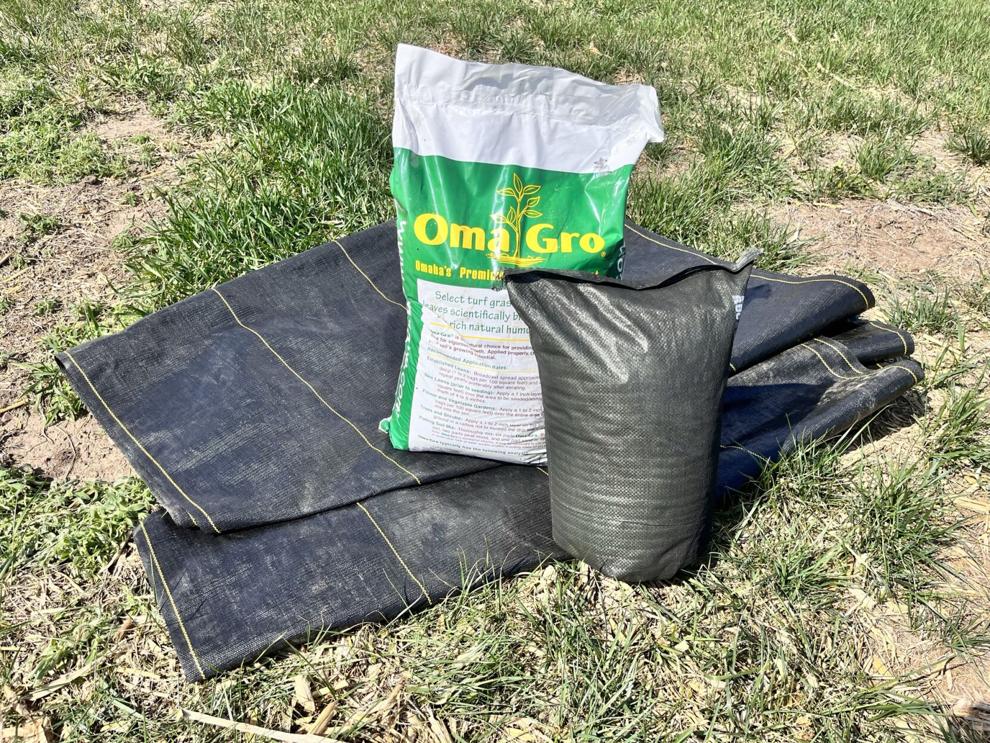 You don't realize how hard change is until you try to change. That was just one of my realiz…
I am a believer in biochar and compost after digging up the one potato plant in the NUSHI plot. This little guy was an afterthought, planted as a secondary crop to replace harvested lettuce. He was a forgotten seed potato found shriveling in the garage in late July. With nothing to lose, I popped him in the ground. Sept. 27 I dug up 16 potatoes, most measuring a diameter of 3.5 inches or more.
As part of the NUSHI study, the cover crop was to be planted in the spring or fall, then again the following year. So after clearing off the NUSHI portion of the garden, I did a really odd thing this year. I grabbed the hoe, a rake and a packet of seeds. Usually, September is when all these supplies are being put away, but instead I planted a cover crop mixture of cowpeas, oats and buckwheat.
Within just a few days, green fuzz emerged in the NUSHI plot. The plants shot up after a perfectly-timed rain and warm spell that followed. I am hoping that winterkill will take care of the cover crop termination so it's not a big mess in the spring. The real question is what will the soil tests reveal after two years of these new gardening practices.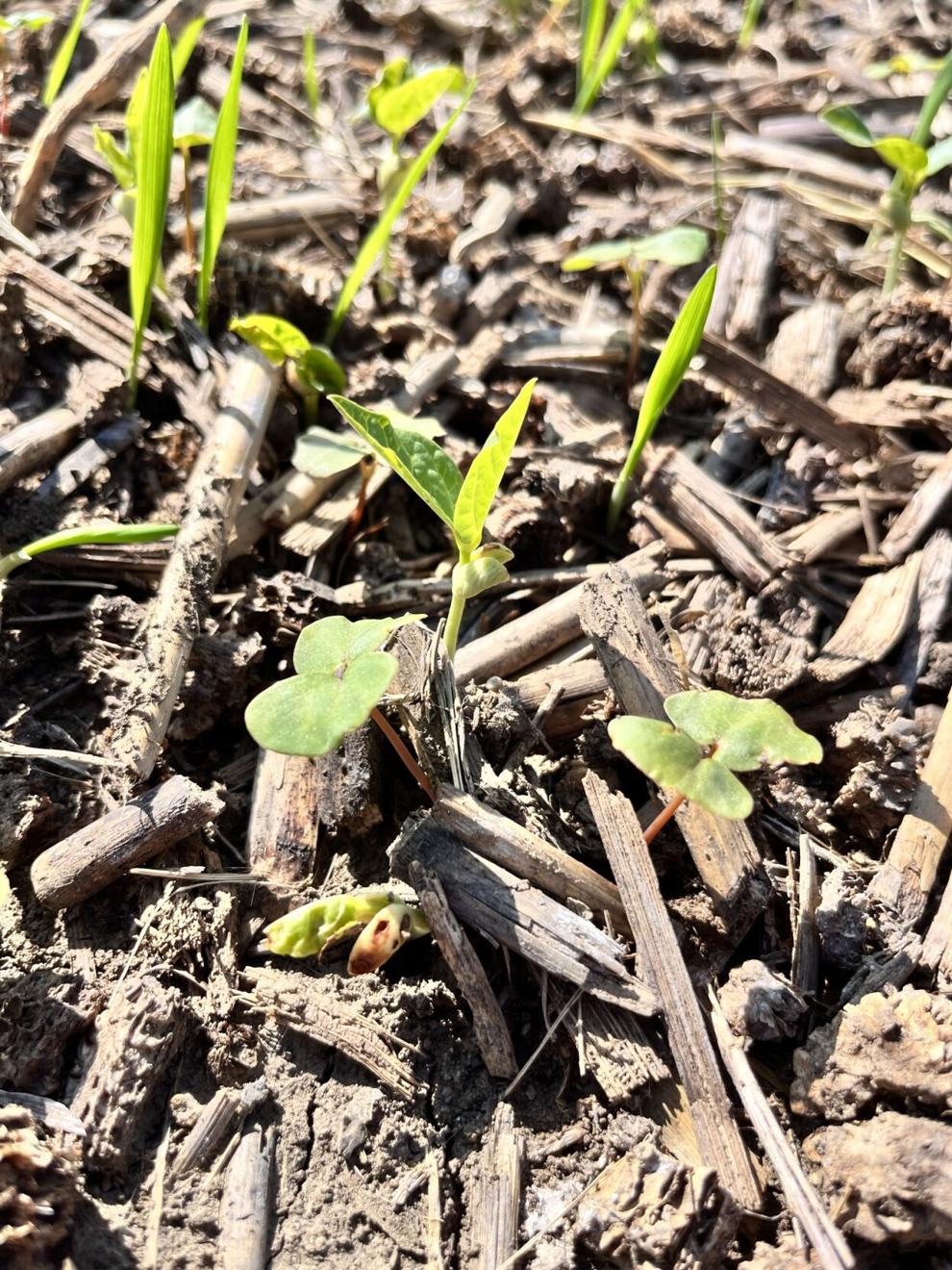 Maybe I am putting too much emphasis on what is growing above ground. Just today I was clearing off the last of the garden debris. There, wiggling in the dark soil rich with compost and biochar, was an earthworm. I stopped to ponder the last time I had seen an earthworm in the garden here. I am embarrassed yet excited to report this is my first earthworm sighting.
Thank you to all who followed along with the NUSHI experiment this season, and for those who took an interest and asked about my garden. This year has been an adventure, and I have enjoyed learning tips and tricks from other NUSHI participants and gardening enthusiasts across Nebraska.
The autumn chill maybe settling in now, but I am already planning my vegetable plot for 2024. Better look closely at those notes for next year!
Reporter Kristen Sindelar has loved agriculture her entire life, coming from a diversified farm with three generations working side-by-side in northeastern Nebraska. Reach her at [email protected]. 
Related Posts