LINCOLN SQUARE — A boutique dog care business is building an outdoor play space for pups at the former City Grange in Lincoln Square.
Canine Social Club5508 N. Western Ave., is next to the now-closed Lincoln Square plant shop and has offered boarding, day care, grooming and other services to dog owners since 2009, said owner Samir Alsaraf.
When Alsaraf heard City Grange closed its North and South side locations earlier this year, he reached out to the landlord to secure the lease for the 5500 N. Western Ave. properties, he said.
There's been an uptick in dog ownership since the pandemic started, and the expansion will allow Alsaraf to grow his business by offering his clients and their pets more amenities, he said.
"Right now, our play spaces are all indoors. This is an opportunity to have an outdoor place space for dogs when it's nicer outside, weather permitting," Alsaraf said.
Crews are at work converting the former garden center into a large dog play area by installing rock cage fence posts.
Later this month, crews will arrive to work on the property's asphalt paving, and eventually the entire lot will be sealed with a light green color, Alsaraf said.
Once that's done, corrugated panels made from Corten steel will be installed between the fence posts. That metal is designed to form a rust-like patina as it weathers, he said.
"It's a highly visible location on a corner lot, and I wanted it to feel more earthy … . A retreat for dogs," Alsaraf said.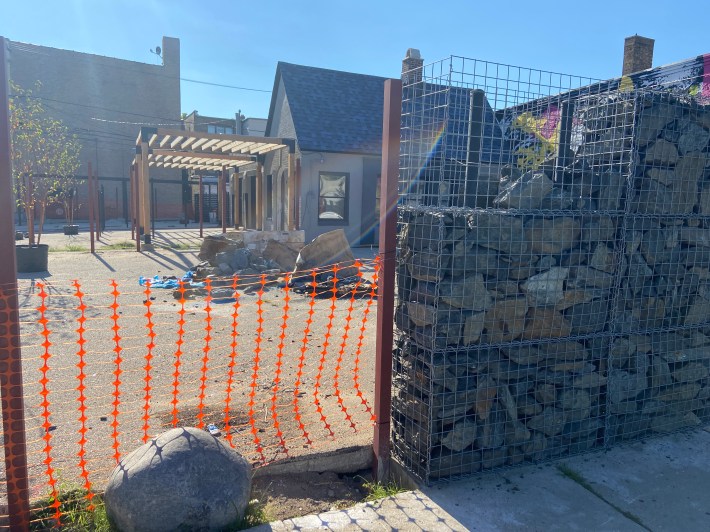 Alsaraf hopes to have construction done by the end of the month. He wants to add dog training services to his business to take advantage of the larger space, he said.
Alsaraf was previously an architect and was laid off from his job during the Great Recession, he said.
"I thought I was going to be an architect for the rest of my life. After being laid off, I sat there and was like, 'What am I going to do?' I had two dogs. I love dogs," he said. "I decided to just go ahead and open a doggy day care, and I never looked back."
The expansion allowed Alsaraf to dust off his architectural skills, and he's had fun combining his two passions, he said.
"People driving have thought it might be a new restaurant or bar, which I find amusing," he said. "But I think it's a compliment because I'm trying to go a bit more upscale in the design."
City Grange opened the Lincoln Square shop in spring 2019 and quickly became a hub for the North Side gardening community. It opened its Beverly location the next year, helping fill a demand for more gardening supplies during the pandemic.
Owner LaManda Joy closed the stores after she decided to move back to the West Coast for family reasons, she said. The shops closed for a holiday break after Christmas and never reopened.
Listen to "It's All Good: A Block Club Chicago Podcast":
Related Posts